The experience and the food was so great we came back 3 more times!
We ate at Danzantes during one of our first nights at Loreto! The experience and the food was so great we came back 3 more times! Gerardo was amazing! He was so informative about Mexican wines, the food being served, and always made sure our visits where exceptional! Our last night there he put together a special good bye desert for my daughter! She was in love! Our waiters Eduardo and Gabriel where just as amazing! Very initiative and very knowledgeable about the food and wines. It was a pleasure getting to know them and being able to call them FRIENDS! Such great memories made with all three of these gentlemen! The Chef, Eduardo......was exceptional! His meals where amazing! Some of the best I have ever tasted! This Restaurant is not only amazing because of its food, but more so because of the staff running it! Gerardo does an amazing job with this restaurant and I cant wait to come back to visit the restaurant and our new friends! Thanks Gerardo, Eduardo, Gabriel, and Chef Eduardo! You guys rock!

Tiffany Booth.
From marketmetrix.com
Cuisine: Steakhouse & Seafood
Dress code: Dress shoes are required for all, while a collared shirt is required for gentlemen. Flip flops are not allowed.
Restrictions:

Danzante Restaurant does not accept pets, children under 13, or groups of more than 10.

Hour: Open Daily, For Dinner from 6:00 pm to 10:30 pm (Reservations required)
Danzante
Authentic Cuisine at Villa del Palmar at the Islands of Loreto
At Danzante, guests will find a fine dining ambiance where delicious aromas and succulent flavors take over your senses. This steakhouse and seafood restaurant, which boasts true Mexican flare, offers a classic atmosphere and an amazing culinary experience. Devoted to fusion cuisine made with seafood, fresh fish, and fine cuts of meat, the flavors of the world mix together in a dazzling array at Danzante. The restaurant and bar also offers a large selection of Mexican wines and variety of cigars for guests to choose from.

Menu
At Danzante, at Villa del Palmar at the Islands of Loreto, you'll find an exquisite menu filled with an array of bold flavors, savory combinations, and the freshest ingredients Baja, Mexico has to offer. The menu, which offers a variety of surf and turf options, caters to the tastes of even the most discerning foodies.
From the mouthwatering tapas menu to the deliciously grilled options, every dish at Danzante is prepared with perfection. Guests are invited to indulge in a variety of Baja favorites, including Clams stuffed with mushrooms and Zarandeado style fish. These options and other more traditional dishes, such as Lamb and Shrimp, are guaranteed to satisfy your cravings and tempt you to return night after night.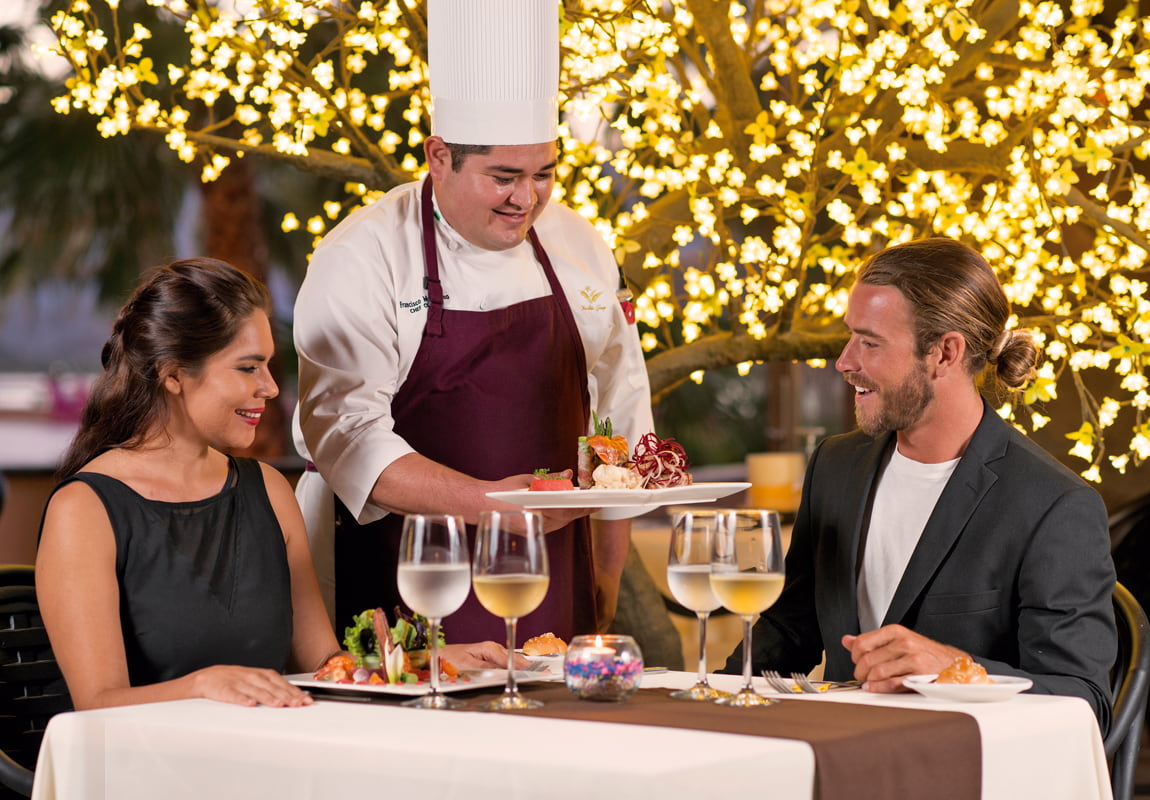 Atmosphere
Danzante is a fine dining restaurant where guests can indulge in the subtle decor, calming ambiance, incredible views, and the delicious creations that come from the kitchen. The restaurant's location, overlooking Danzante Island and the Sea of Cortez in the distance, lends to its exclusivity, giving guests a truly exceptional dining experience. When you visit Danzante, you can sit back and revel in the splendor of tantalizing aromas, succulent flavors, incredible company, and the exquisite feeling of being on vacation. The serene ambiance offers the perfect mixture of romance and excitement, making it ideal for those wishing for a night out with a loved ones or even just a calming evening alone.