Loreto, Mexico
Bienvenidos (welcome!) to the historic town of Loreto. A place where you'll find historic buildings dotted with bright green plant life, exotic flowers bursting out of the concrete in fresh-fish taco stands, and the enchanting Mision de Loreto- a mission-style church that was built in 1697. While Loreto boasts a wealth of treasures on land, including opportunities for hiking, biking, and nature-tours that can fill up a camera with pictures of radiant natural setting, it is also a destination ideal for those who love the sea. The Islands of Loreto features Mexico's largest marine preserve where dolphins, seals, turtles and sea lions all play in the water. The underwater animal life alone rivals that of any world class aquarium.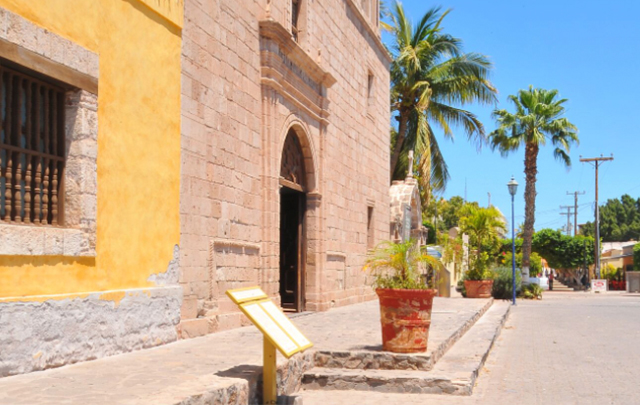 Where is Loreto located?
Loreto, Mexico is located on the eastern coast of the Baja California Peninsula in the state of Baja California Sur. The small coastal town, which is home to one of the oldest settlements in Mexican history, is nestled on the shores of the Loreto Bay National Marine Park, a protected area almost 800 square miles around. The picturesque terrain includes the rolling hills of the Sierra de la Giganta mountains and the desert landscapes that blanket the coast.
Loreto Map
Estimated Flight Times
Loreto Top Attractions
Our Lady of Loreto Mission: The first successful Jesuit mission in Baja, Our Lady of Loreto is considered the head of all the missions in Baja California and Baja California Sur.
The Mission of San Javier: Founded in 1699, this is the second Jesuit mission established in the region.
TPC Danzante Bay: The only TPC Network golf course in Mexico, recognized for its stellar facilities and PGA Tour requirements.
The Islands of Loreto: Visiting the Islands of Loreto provides an adventure that is unique and memorable. Visit one, two, or discover them all.
Loreto Bay National Marine Park: The "Aquarium of the World" awaits you in Loreto, Mexico.
The Malecon in downtown Loreto: Visit the malecon in downtown where a stretch of beach and various shops come together.
Loreto's Most Popular Beaches
Ensenada Blanca
This beach, where Villa del Palmar at the Islands of Loreto is located, is just a 30-minute drive south of Loreto. This stunning beach is loved by travelers for its soft sands, romantic ambiance, and picturesque views of Danzante Island.
Coronado Beach
This brilliant white sand beach on Coronado Island in Loreto is ideal for those seeking seclusion and breathtaking vistas. It is also a great place to take a swim.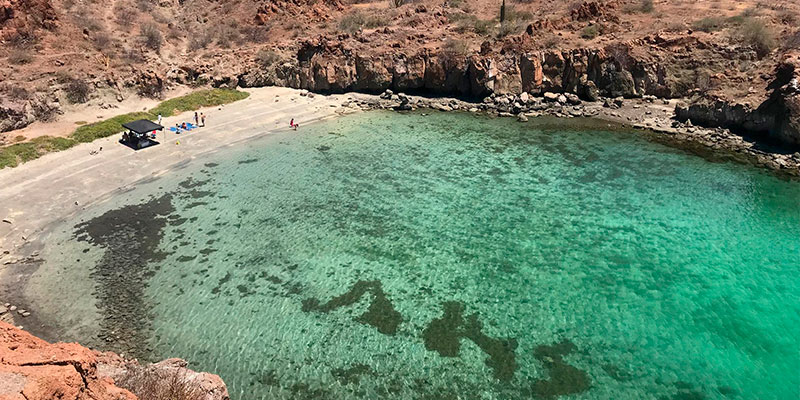 Honeymoon Beach
A small strip of extremely private beach located on Danzante Island.
Main Beach
Conveniently located in the center of town near a number of coffee shops and cafes, this beach is popular among locals who like to spend the day playing in the sand, watching fishermen bring in the catch of the day, and swimming in the shallow waters.
Loreto Weather
The beauty of Loreto is magnified by the Loreto weather, which is almost always ideal for the vacation state of mind. In the summer, visitors can expect higher temperatures, with lows in the 80s and highs nearing 100°F. In winter, temperatures cool off, hovering between the mid 60s to a very comfortable 85°F. Throughout most of the year, blue skies and sunshine prevail with a bit of rain showing up in the late summer months.
Loreto Time Zone
Baja California Sur, which includes Loreto, is located in the Mountain Standard Time Zone (GMT -7), the same as Edmonton, in Canada's Alberta Province, and the city of Denver, Colorado in the United States.
Tours & Activities in Loreto
Loreto, Baja California Sur is without a doubt one of the most incredible destinations in Mexico for those who like to explore the world and experience its majestic nature. The diversified landscapes provide the backdrop for a great number of Loreto tours and activities that take place on both land and sea.
For more information visit our Frequently Asked Questions (FAQ)
Interact with us
Alan C

UNBELIEVABLE Villa del Palm...
Great resort, excellent staff, beautiful golf course, excellent food and service, beach amazing, it was really unbelievable, more than i expected, better than the pictures...i am going back...
360 Estrella

A very unique and beautiful...
A very unique and beautiful setting Opinión sobre el Villa del Palmar Beach Resort & Spa at The Islands of Loreto Opinión escrita Hace 6 días Traductor de Google This was our fourth time to visit…
Happyloreto

Each trip we are even more ...
 Our room is exceptionally clean and it feels like home! The maid service is amazing, they are sweet and kind and ready to please. The Reception is highly knowledgeable and Sahariana did a…
2018 Heather

The most amazing hidden tre...
This was the most amazing vacation. We were treated like kings and queens during our entire stay.All the staff we encountered were amazing and truly wanted our stay to be the best. Everything from the…
Lwazz

Lovely resort
Resort is beautiful and staff are lovely! From the moment we arrived to when we (sadly) had to leave, we felt taken care of. Food is great with lots of options. The beach is amazing and warm, and the…
701golden

Dolphins galore, good food,...
First of all, I can't say enough about the staff that waited on us throughout our trip! I have to specifically mention Abraham, Alex, Roberto, Rafa, Luis, Benjamin, Manny, Miguel and Armando. They…
Parhelion Cellars

Above and Beyond Expectations
There is something really special about this particular resort. Nothing but smiles and new friends to be made. It might be the beautiful location and the fact that the waters are protected. Nothing…
Theresag78883

That's why we keep coming b...
As always, it is the best place where we can spend our vacations. This time we came with two other couples, and we tried a lot of new things (We even went to the town!) Samantha at the lobby was a…
Anskyone

Incredibly Relaxing 2nd Vis...
Came back a year later and things are just as beautiful and relaxing as a year ago. Some overall hotel/property improvements since, service is still great, food is excellent and activities are…