To experience one of the most elite suite accommodations, a stay in the 3,270-square-foot Royal Three Bedroom Penthouse comes highly recommended. This three-bedroom mega suite is a magical wonderland that surprises and delights with stunning views of Danzante Bay and a residential sentiment that reminds you of an ocean-side home.
When designing the Royal Three Bedroom Penthouse, our intention was to create an ambiance that would be conducive to socializing and relaxing; a spectacular home away from home that is both functional and distinctive. The most spectacular features of our Royal Penthouse are the three oversized terraces. These secluded spaces allow you to enjoy dining and lounge areas – whether entertaining guests or by yourself – with mesmerizing views of the Sea of Cortez and Sierra de la Giganta Mountains. There is also a hot tub for the ultimate in relaxation.
The master bedroom of the Royal Penthouse is a residential-style tropical retreat with a luxurious king-sized bed, master bathroom, and a 42" LCD TV. The other rooms are just as finely appointed with a plush king bed in one and two queen-size beds in the other. Each bedroom has its own separate bathroom and LCD television for extra comfort and privacy.
In the spacious living and dining areas, features such as a contemporary queen sofa bed and chairs that are perfect for lounging will welcome you. There is a table that allows for indoor dining as well as an entertainment area, which is great for preparing your favorite cocktail on a hot day or entertaining guests. Additionally, guests can make use of a fourth bathroom so that everyone has the privacy they need for an exclusive vacation.
Of course, no residence is complete without a full kitchen. Top of the line stainless steel appliances make any cook feel right at home whether they're making a mouth-watering gourmet meal or warming up leftovers. The kitchen comes complete with a four-burner stove, refrigerator, toaster, blender, and a dishwasher. There is also a washing machine and dryer in the unit for true home away from home convenience.
When choosing the Royal Three Bedroom Penthouse at Villa del Palmar at the Islands of Loreto, expect nothing but the best.
Air conditioning
Flat screen television
Living Room
Dining table
Telephone
Fully equipped kitchen
Dishes, silver and kitchenware set based on capacity
Dishwasher
Refrigerator
Electric stovetop with four burners
Microwave
Coffee/tea maker
Toaster
Blender
Safety deposit box
Washer & dryer
Iron & ironing board
Separate walk-in showers
Jetted tub
Expansive Terrace
Grill
Private Hot Tub
Daily housekeeping
Electronic/magnetic keys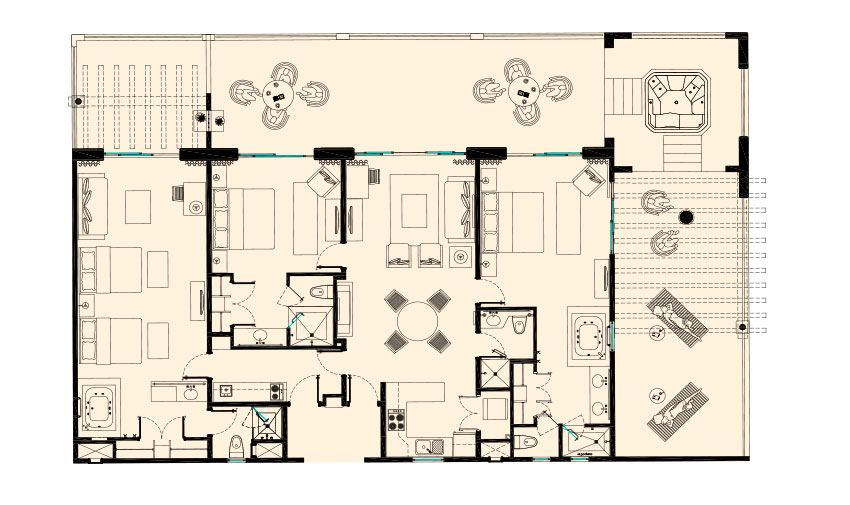 Heaven on Earth
Villa Del Palmar at the Islands of Loreto is such a paradise! For a person like me and my family who's always on the go, busy with work, school and sports - coming to this place to just rest and relax is definitely the place to be.

A five-star review
from Tripadvisor
Awards & Recognitions

---
Choose the suite that is right for you!
TERMS & CONDITIONS
Tariffs are quoted in American dollars. Room Only rates are per room, per night based on sextuple occupancy and do not include taxes. All-inclusive rates are based on the maximum room capacity, are per person, per night, and include taxes.

Interact with us
Alan C

UNBELIEVABLE Villa del Palm...
Great resort, excellent staff, beautiful golf course, excellent food and service, beach amazing, it was really unbelievable, more than i expected, better than the pictures...i am going back...
360 Estrella

A very unique and beautiful...
A very unique and beautiful setting Opinión sobre el Villa del Palmar Beach Resort & Spa at The Islands of Loreto Opinión escrita Hace 6 días Traductor de Google This was our fourth time to visit…
Happyloreto

Each trip we are even more ...
 Our room is exceptionally clean and it feels like home! The maid service is amazing, they are sweet and kind and ready to please. The Reception is highly knowledgeable and Sahariana did a…
2018 Heather

The most amazing hidden tre...
This was the most amazing vacation. We were treated like kings and queens during our entire stay.All the staff we encountered were amazing and truly wanted our stay to be the best. Everything from the…
Lwazz

Lovely resort
Resort is beautiful and staff are lovely! From the moment we arrived to when we (sadly) had to leave, we felt taken care of. Food is great with lots of options. The beach is amazing and warm, and the…
701golden

Dolphins galore, good food,...
First of all, I can't say enough about the staff that waited on us throughout our trip! I have to specifically mention Abraham, Alex, Roberto, Rafa, Luis, Benjamin, Manny, Miguel and Armando. They…
Parhelion Cellars

Above and Beyond Expectations
There is something really special about this particular resort. Nothing but smiles and new friends to be made. It might be the beautiful location and the fact that the waters are protected. Nothing…
Theresag78883

That's why we keep coming b...
As always, it is the best place where we can spend our vacations. This time we came with two other couples, and we tried a lot of new things (We even went to the town!) Samantha at the lobby was a…
Anskyone

Incredibly Relaxing 2nd Vis...
Came back a year later and things are just as beautiful and relaxing as a year ago. Some overall hotel/property improvements since, service is still great, food is excellent and activities are…