Published on 12/08/2021
Direct Flights to Loreto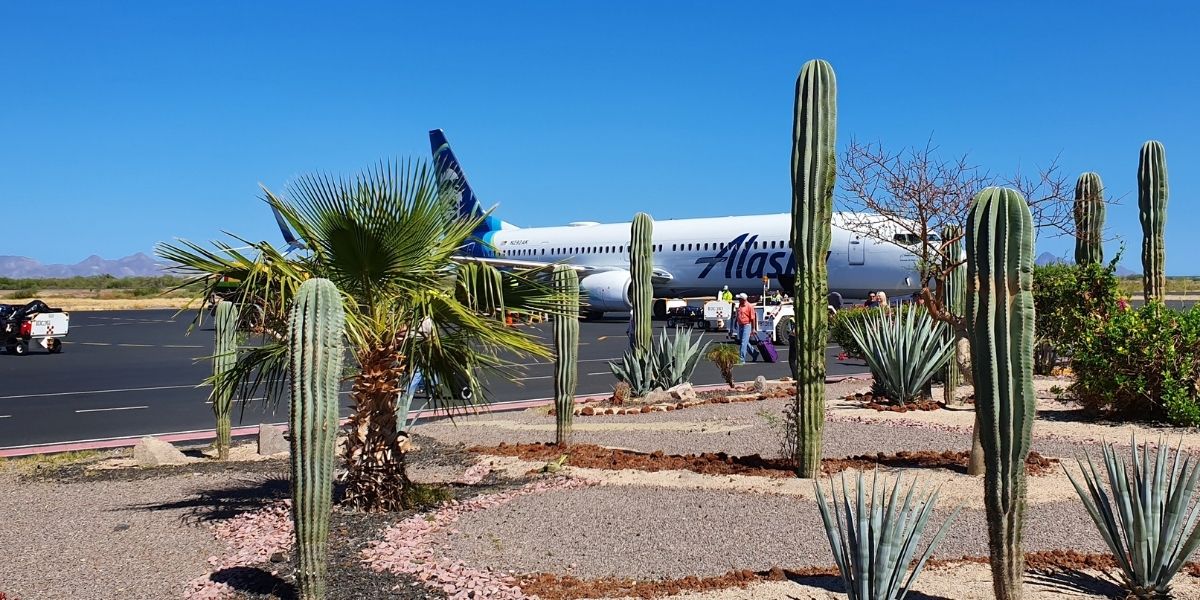 Jetting off to a tropical beach is easier than ever when you're headed to Loreto, Mexico. This coastal destination is located just hours across the border, so even if you just have a long weekend to get away, this is the perfect vacation destination. With these flights to Loreto, you can fly directly there or find a more convenient route from home, and the domestic Mexican flights allow you to fly to Loreto Mexico while discovering more of this beautifully diverse country.
Flights from LAX to Loreto, Mexico
Los Angeles is one of the world's biggest transportation hubs, and from here, you can fly to Loreto Mexico in less than two hours. Alaska Airlines provides multiple flights to Loreto each week, and during the main tourist season from November 17 - May 7, they have daily service between LAX and Loreto. These flights are just 1 hour and 55 minutes, getting you on the beach quickly and easily.
San Diego - Tijuana to Loreto Flights
When you're in San Diego, you have two convenient airports to fly from: the San Diego International Airport (SAN) or the Tijuana International Airport (TIJ). That's because of the Cross Border Xpress, a walkway that connects the two airports where you can pass through immigration. From Tijuana, you can fly to Loreto Mexico with Calafia on Sundays and Thursdays or with Volaris on Mondays, Tuesdays, Thursdays, or Saturdays. With just 1 hour and 40 minutes between take off and landing, these are the quickest flights to Loreto from the US.
Flights from Dallas To Loreto, Mexico
This year, American Airlines will have a weekly flight from Dallas to Loreto, Mexico on Saturday. Jet off from DFW each week, and in 2 hours and 45 minutes, you'll be walking along the beach and sinking your teeth into fresh fish tacos.
Flights to Loreto Mexico from Phoenix
American Airlines has added more flights to Loreto from Phoenix, AZ (PHX). All year long, these flights take off on Thursdays and Saturdays, and during tourist season between December and May, there will be two more flights on Sundays and Mondays. These flights land in just 1 hour and 50 minutes, giving you more time to spend in Mexico on your vacation.
Fly from La Paz to Loreto
La Paz is one of the other popular destinations in Baja California Sur, especially for scuba divers and outdoor enthusiasts who want to explore the Sea of Cortez. Calafia Airlines flies twice a week between LAP and LTO, on Sundays and Thursdays, giving travelers the option to explore each destination, and since these flights are just 45 minutes long, you'll have plenty of time in each.
Flights from Calgary to Loreto
There's only one option to fly directly from Canada to Loreto, and that's with WestJet Airlines. WestJet has a weekly service between YYC and LTO on Saturday from November 7 - December 18, and they add an additional flight on Sunday from December 19 - April 30. With these flights, Canadians can trade their warm winter coats for flip-flops and swimsuits.
Part of what makes Loreto such a peaceful destination is its seclusion, but with these different direct flights, travelers from around the world can jet off to paradise quickly and easily. Have the vacation of a lifetime, and experience the warm culture of Mexico when you land in Loreto.

| | | | |
| --- | --- | --- | --- |
| Cities | Airlines | Flight Times | Connections |
| San Francisco | Alaska Airlines | 2h 40m | Nonstop |
| Los Angeles | Alaska Airlines | 1h 58m | Nonstop |
| San Diego - Tijuana | Volaris and Calafia | 1h 45m | Nonstop |
| Dallas | American Airlines | 3h 8m | Nonstop |
| Phoenix | American Airlines | 2h 4m | Nonstop |
| Calgary | WestJet | 3h 59m | Nonstop |
| La Paz | Volaris and Calafia | 45m | Nonstop |