In light of the current situation, we are aware that many of you may have questions or concerns regarding travel to Loreto and/or your upcoming reservations. We assure you, we are here to help in any way we can.
Please contact the resort directly at
+52 (613) 134 1000
or by email at
reservaciones.vdpl@vgloreto.com
should you need information or have any questions you'd like answered.
Published on 16/02/2019
5 Reasons to Get Married in Loreto Baja Mexico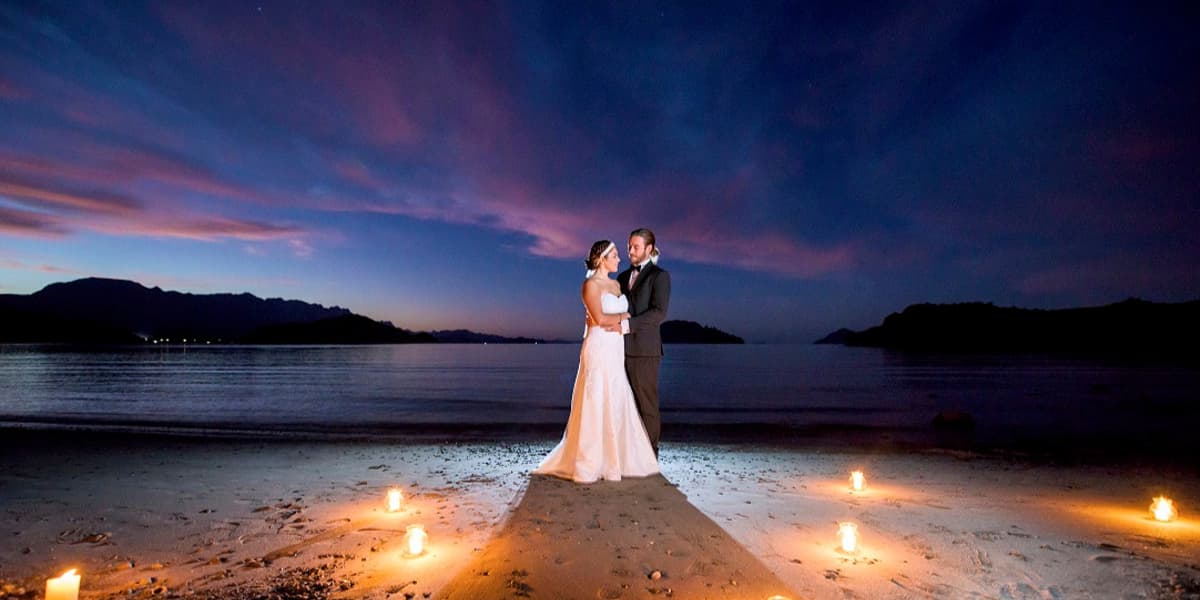 Loreto Mexico is a hidden paradise nestled along the Baja Peninsula with clear blue waters and white sandy beaches, making it one of the top Mexico wedding destinations. When it comes to the best wedding destinations, brides have choices all across Mexico. While you may not have heard of Loreto Mexico, this hidden jewel on the coast is the ultimate location for a Mexico wedding.
These five reasons will have you saying "I do" to a Loreto Baja Mexico wedding at Villa del Palmar at the Islands of Loreto.
1. Peaceful Destination
With a population under 13,000, the city of Loreto is peaceful and quiet compared to larger cities. For brides looking to escape the stress of wedding planning, this charming town will feel like an escape where you can bask in your love and celebrate with family and friends at your Loreto Baja wedding. The sound of the seabreeze in the verdant palm trees will put your mind at ease as you celebrate at your Mexico wedding with your loved ones.
2. Beautiful Wedding Venues
The beauty of Loreto provides the ultimate destination wedding venues with breathtaking views of the Sea of Cortez. As one of the best wedding destinations, you won't need to do much to set up a gorgeous ceremony and reception. The sunset over the water and endless stretches of white sand provide the perfect location to profess your love. Choosing a Baja wedding will save you time and money on decorations with its naturally breathtaking environment. With a reception at Villa del Palmar Loreto award-winning resort, you'll have one of the most luxurious and gorgeous destination wedding venues to party the night away.

3. Your Mexico Wedding Planner
While getting all the tranquility and beauty of one of the top Mexico wedding destinations may sound complicated and stressful, planning a wedding at Villa del Palmar at the Islands of Loreto is simple with the complimentary help of your own Mexico wedding planner. While you're still at home preparing to travel to Villa del Palmar Loreto all inclusive resort, your Mexico wedding planner will already be at work coordinating flowers and arranging catering so that everything is ready when you land. Their expertise and connections will give you your dream wedding and take away the usual wedding-planning stress.
4. Five-Star Service
As guests arrive, the five-star service at Villa del Palmar at the Islands of Loreto will make sure everyone feels like they are on vacation. Your guests can sit back with a fresh margarita as they catch up before the wedding. For those who have the time, exploring the area of Loreto Mexico will make their journey to your Mexico wedding unforgettable. By choosing one of the top Mexico wedding destinations, your big day will be a chance for everyone to escape the ordinary and relax in paradise.

5. Save Money on Your Wedding
Choosing one of Mexico's top destination wedding venues means you can save money on your wedding. While that might sound like a fairytale, it can be a reality at the top all-inclusive resorts in Mexico. With different tiers of wedding packages and discounts available, you can keep everything under budget and take advantage of serious savings on a wedding at Villa del Palmar Loreto luxury resort. For many brides, this makes their dreams of the best wedding destinations a reality.
From the expertise of a Mexico wedding planner to serious savings, there are plenty of reasons to choose Loreto Mexico from among all the stunning Mexico wedding destinations. The city's peaceful tranquility is the ultimate backdrop for not just a vacation with your family and friends but for professing your love to your partner.

Alan C

UNBELIEVABLE Villa del Palm...
Great resort, excellent staff, beautiful golf course, excellent food and service, beach amazing, it was really unbelievable, more than i expected, better than the pictures...i am going back...
360 Estrella

A very unique and beautiful...
This was our fourth time to visit Danzante Bay and the Islands of Loreto. Inour opinion, Villa del Palmar is the crown jewel of the Villa Group offerings. It features a wonderful, tranquil…
Happyloreto

Each trip we are even more ...
Our room is exceptionally clean and it feels like home! The maid service is amazing, they are sweet and kind and ready to please. The Reception is highly knowledgeable and Sahariana did a…
Bonsaiman99

Totally Amazing, Relaxing, ...
We have been coming here yearly for the past seven years (it only opened eight years ago) and each year we love it even more than previously. The staff, the location, the facilities and the ambience…