Published on 24/06/2020
Danzante Fine Dining Wins Wine Spectator 2020 Award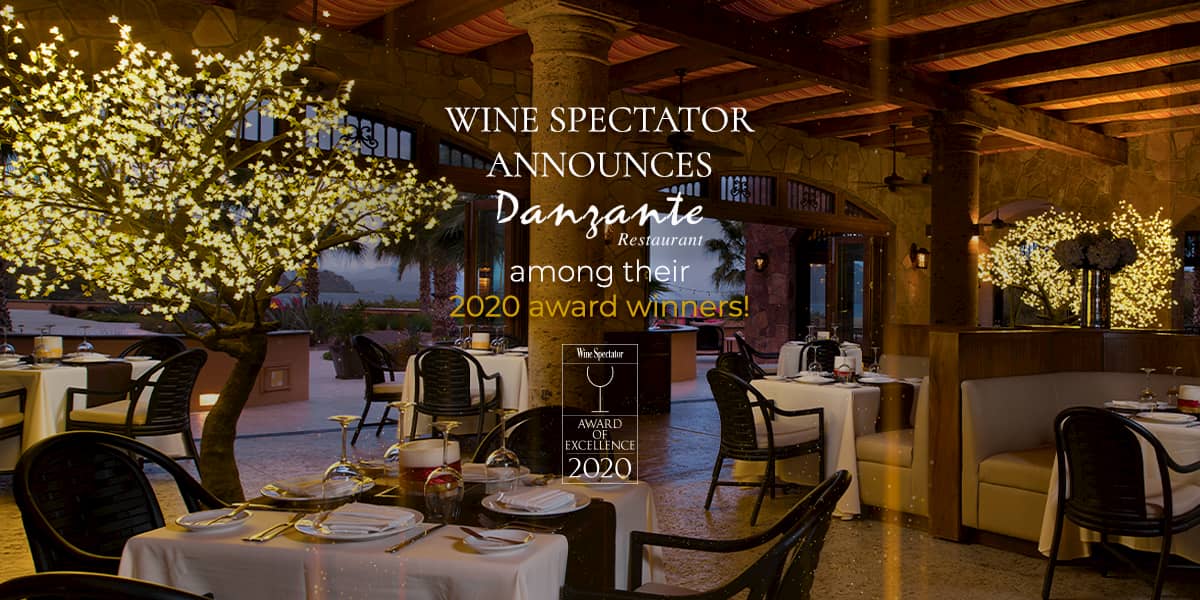 There are so many details that go into making Danzante Restaurant at Villa del Palmar at the Islands of Loreto a favorite among travelers and one of the best restaurants in Loreto Mexico, but no detail is too small when it comes to serving the finest Mexican cuisine at the resort. From the cuts of meat to the coffee after dinner, everything at the restaurant is chosen to give you the best dining experience. One reason foodies love Danzante is the extensive wine list with bottles curated from around the world that showcase the best of each region, including Mexican wines. This year, the restaurant has once again earned one of the coveted Wine Spectator Restaurant awards, recognizing the exquisite pairings of gourmet food with fine wines.
Since 1976, Wine Spectator has been a trusted source for wine reviews, articles on different wineries, and tasting events. The Wine Spectator Restaurant Awards are given to those that have curated a selection of bottles from the finest vineyards in France and Italy as well as locally grown wines for an array of options to pair with any of the restaurants' dishes. Based on the advice of the restaurant's sommelier, the flavor profile of the wine should compliment the ingredients in the dish, and while the wine list should feature quality bottles, they don't all have to be expensive. The key to earning Wine Spectator Restaurant Awards is having a wide array of wines that are distinguished for their flavor, not just their price.

Danzante Restaurant has cultivated a selection of wines that highlights fine selections from around the world and from Valle de Guadalupe, a growing area north of Loreto on the Baja Peninsula. While Valle de Guadalupe isn't widely known, the evolving vineyards here are producing quality wines that rival their California neighbors to the north. Danzante is one of the best restaurants in Loreto Mexico that's dedicated to introducing travelers to Mexican wines or new wines from other areas of the world.
While looking out over the sea, you can dine on fresh fish from the Sea of Cortez or fine cuts of lamb and steak seasoned with aromatic spices. These exquisite meals in the elegant dining room of Villa del Palmar at the Islands of Loreto are perfect for any occasion, whether you're celebrating a round of golf at TPC Danzante Bay, an anniversary, or simply another day of vacationing. As you relax in this serene ambiance at sunset, dazzle your taste buds by trying a new fine wine.
As one of the best restaurants in Loreto Mexico, Danzante is made up of a team who love wine and food, a team who works diligently to make every meal a burst of flavor that celebrates the best of Mexican cuisine. On your next vacation to Loreto, they'll help you choose a bottle of wine that will bring out the flavors of your meal and likely become a new favorite.