Published on 15/02/2019
The Best Massage in Loreto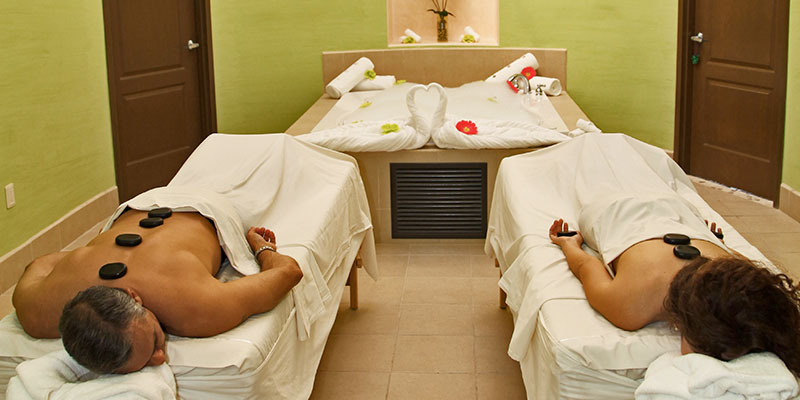 A Mexican vacation is an opportunity to recharge and refresh your spirit, and when you're staying at Villa del Palmar at the Islands of Loreto, you have direct access to the best spa in Loreto: the Sabila Spa, to help you indulge. Within the tranquil environment of this luxury spa, you can spend the afternoon being pampered by highly-trained masseuses prepared to help you relax and to bring healing to your body with the best massage in Loreto.
Sabila Spa combines both the best of modern, state-of-the-art facilities with the strength of ancient massage traditions. Within the pristine and tranquil ambiance of the best Loreto Spa, you can enjoy a variety of services that will have you feeling relaxed and refreshed. The array of massages offered at the Sabila Spa and Wellness Center are some of most popular spa treatments for guests of Villa del Palmar at the Islands of Loreto. The benefits of massage that come as a result of such an incredible massage are both mental, such as decreases in anxiety and alleviation of insomnia, as well as physical, such as improved digestive health and the softening of joint pain. Give your body the many benefits of massage when you choose from any of these treatments in Loreto Mexico.
One of the most decadent massages offered at the Sabila Spa and Wellness Center at Villa del Palmar Beach Resort & Spa is the Chocolate Delight Massage. Chocolate contains natural caffeine, which breathes new life into skin by improving blood flow and circulation. In turn, this keeps skin firm and youthful. At the same time, your senses will be fully indulged in the rich aroma of the moisturizing chocolate and the deep relaxation of massage.

The clinicians at Villa del Palmar Beach Resort & Spa have created two signature massages tailored for athletes. The Sabila Spa Signature Golf Massage relaxes contracted muscles based on the movements and strains of golfing. The benefits of this massage include improving your range of motion for a stronger golf swing, making your game at TPC Danzante Bay, the golf course on the same property as Villa del Palmar at the Islands of Loreto, even more incredible. Another massage that targets athletes is the Fisherman's Special, designed with those who love to fish in mind. After reeling and casting all afternoon in Loreto Mexico, the "Aquarium of the World," relax with warm, aromatic packets of fresh herbs as you unwind with a deep massage. Choosing one of these incredible treatments will give you the best massage in Loreto after a full day of activity.
For couples traveling together, there's nothing more romantic than a couple's massage at the best Loreto Spa. The benefits of massage that you'll receive together include a heightened sense of relaxation and intimacy. Villa del Palmar Beach Resort & Spa has created several signature packages that combine the healing techniques of massage with other indulgent spa services. Pamper yourselves together for a truly romantic experience or if you are in the mood for a solo experience, the Balance Stone Massage is the perfect choice for an individual spa session. As one of the most soothing massages in Loreto Mexico, this massage combines both classic Swedish techniques and hot stone massage. During this exquisite massage, you can feel your stresses melt and the tension fall away as you pamper yourself with this deep massage at the best spa in Loreto.

If you can't choose between a Swedish, deep tissue, athletes', or any of the other massages offered, try what many consider to be the best massage in Loreto: the Combination Massage. For over an hour, masseuses will blend five different healing techniques to give your body ultimate relaxation. Each technique will provide you with different benefits of massage, leaving you feeling rejuvenated mentally and physically. Experience the best Loreto spa during your stay at Villa del Palmar at the Islands of Loreto and revel in the healing strength of massage when you visit the Sabila Spa.
Interact with us
Alan C

UNBELIEVABLE Villa del Palm...
Great resort, excellent staff, beautiful golf course, excellent food and service, beach amazing, it was really unbelievable, more than i expected, better than the pictures...i am going back...
360 Estrella

A very unique and beautiful...
A very unique and beautiful setting Opinión sobre el Villa del Palmar Beach Resort & Spa at The Islands of Loreto Opinión escrita Hace 6 días Traductor de Google This was our fourth time to visit…
Happyloreto

Each trip we are even more ...
 Our room is exceptionally clean and it feels like home! The maid service is amazing, they are sweet and kind and ready to please. The Reception is highly knowledgeable and Sahariana did a…
Bonsaiman99

Totally Amazing, Relaxing, ...
We have been coming here yearly for the past seven years (it only opened eight years ago) and each year we love it even more than previously. The staff, the location, the facilities and the ambience…
2018 Heather

The most amazing hidden tre...
This was the most amazing vacation. We were treated like kings and queens during our entire stay.All the staff we encountered were amazing and truly wanted our stay to be the best. Everything from the…
Lwazz

Lovely resort
Resort is beautiful and staff are lovely! From the moment we arrived to when we (sadly) had to leave, we felt taken care of. Food is great with lots of options. The beach is amazing and warm, and the…
701golden

Dolphins galore, good food,...
First of all, I can't say enough about the staff that waited on us throughout our trip! I have to specifically mention Abraham, Alex, Roberto, Rafa, Luis, Benjamin, Manny, Miguel and Armando. They…
Parhelion Cellars

Above and Beyond Expectations
There is something really special about this particular resort. Nothing but smiles and new friends to be made. It might be the beautiful location and the fact that the waters are protected. Nothing…
Theresag78883

That's why we keep coming b...
As always, it is the best place where we can spend our vacations. This time we came with two other couples, and we tried a lot of new things (We even went to the town!) Samantha at the lobby was a…
Anskyone

Incredibly Relaxing 2nd Vis...
Came back a year later and things are just as beautiful and relaxing as a year ago. Some overall hotel/property improvements since, service is still great, food is excellent and activities are…
Dkpmep

Best Kept Secret In Mexico…!!
If you can handle world class views and are looking for the perfect place to recharge your batteries...Look no further.
Loloo2020

Great Family Friendly Resor...
This is our 3rd time at the Villa del Palmar in Loreto and we highly recommend it. We travel with 3 generations and there is something for everyone! 
5678dancemom

An Absolute Treasure
We love our stays at the Villa Del Palmar in Loreto. This hidden gem is quiet, relaxing and unexpectedly at the forefront of food trends and hospitality.
Bobbi789

Love this place
Loreto is a one of a kind, off the beaten path with no solicitors. The spa is to die for, the food is excellent, and the staff is like no other. Kind, caring, personable, and helpful. I'd go back in a…